A WRINKLE IN TIME: Packed With Magic, But Lacking In Subtlety
A Wrinkle in Time has many touching and beautiful moments, in large part due to the incredible and relatable performance of its young star. However, the heavy-handed direction and sugary-sweet story may wear on adults used to more nuanced fare.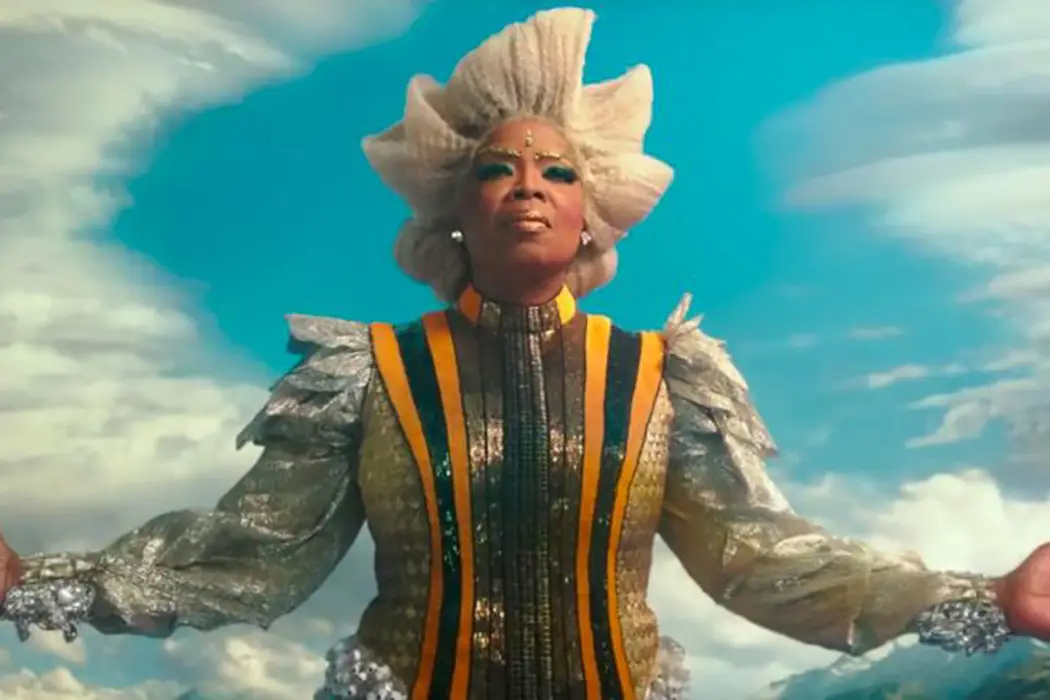 Madeleine L'Engle's 1962 novel A Wrinkle in Time is much beloved by generations of readers who were first introduced to science-fiction and fantasy through the adventures of its heroine, Meg Murry. Dealing with hefty concepts ranging from quantum physics to the power of evil, the book speaks to a youthful audience without speaking down to them; it touches on the everyday horrors of not fitting in at school and the incredible responsibility of saving the world without skipping a beat. It's not an easy read, so it makes sense that it wouldn't be an easy task to make it into a film. To do so would require, in the parlance of L'Engle's novel, a warrior.
Ava DuVernay, the filmmaker behind Selma and 13th and an outspoken advocate for diversity and inclusion, is the very definition of a warrior. With A Wrinkle in Time, she became the first African-American woman to direct a film with a budget over $100 million. Yet while there is much to admire about the film and its ambitions, the sheer scope of the project highlights weaknesses of DuVernay's direction that were more easily overlooked in her earlier work.
"Be a warrior."
Meg Murry (Storm Reid) is the daughter of two accomplished scientists (Chris Pine and Gugu Mbatha-Raw, so young that I assume they somehow balanced getting their doctorates with raising their baby, which is very impressive). Rounding out the family is Charles Wallace (Deric McCabe), Meg's adopted younger brother and a quirky child genius. However, their happy family is torn apart when Mr. Murry abruptly disappears.
Mr. Murry had been espousing crazy theories about tessering, or traveling through time and space through the power of one's mind. Yet these theories were so roundly ridiculed by most of his peers that no one really imagines that could be the reason for his disappearance. Instead, Meg struggles at school as the odd girl with the equally odd brother, bullied by other girls who taunt them for being so weird that their father must have felt compelled to abandon them.
All of that changes with the arrival of three magical beings: Mrs. Who (Mindy Kaling), Mrs. Whatsit (Reese Witherspoon) and Mrs. Which (Oprah). They tell Meg and Charles Wallace that they have received a message from their father, and need their help to find him and bring him home.
Accompanied by Calvin (Levi Miller), a classmate of Meg's who clearly has a gigantic crush on her, they tesser away from Earth and out into the Universe, where they encounter a dark and terrible force known only as the IT. With a little help from her newfound friends, Meg must summon all of the love and light she can muster to rescue her father from the clutches of this incredible darkness.
"Meg, I give you your faults."
For all of her talents, DuVernay's biggest weakness as a director is a lack of subtlety, and never has that been more on display than in A Wrinkle in Time. The film relies too much on uncomfortable extreme close-ups and distracting music cues to telegraph to the audience what they should be feeling at certain moments, instead of allowing them to reach those emotional destinations themselves.
At one point, I found myself struggling to hear Meg and Calvin speak to each other because they were being drowned out by a bombastic pop song. When your star is as remarkably talented and natural on camera as Storm Reid – even when confronted by an oversized Oprah in glitter lipstick – you don't need to do that. Nor do you need to zoom in tightly on her face for us to be engaged in what her character is thinking.
Queen Sugar, the gorgeously shot and acted drama on OWN created by DuVernay, is guilty of this too, but the impact of being hit over the head by each episode's direction is muffled by the strengths of the show's particular story.
Here, with a script by Jennifer Lee (Frozen) and Jeff Stockwell (Bridge to Terabithia) reliant on sweet and earnest messages about love, light, and goodness that are clearly articulated in the dialogue and thus not at all difficult to glean – even for the youthful target audience of this PG-rated film – these heavy-handed tactics grow frustrating. 
"We can't take any credit for our talents. It's how we use them that counts."
Fortunately, there is enough going on in A Wrinkle in Time to make you smile just as much as you cringe. The film's world is rich in color and sparkle, wish fulfillment for every young girl who was ever obsessed with Lisa Frank and wished that the real world had similar, psychedelic qualities.
As someone who is a sucker for over-the-top eye makeup and architectural clothing, I was particularly obsessed with the various different looks of Mrs. Who, Which and Whatsit, courtesy of costume designer Paco Delgado (Les Misérables). My only critique of these fantastical, colorful looks is that Oprah's gemstone-encrusted eyebrows were a bit distracting, mostly because I kept expecting jewels to fall off every time she emoted.
Oprah is essentially playing herself here; as the most senior and powerful of the three women, she espoused inspirational bon mots in such an intense, motherly way that you just want her to hug you (and then, maybe give you a new car).
Mindy Kaling doesn't fare as well; as Mrs. Who, her dialogue mostly comprises quotations from other people, and every line feels forced and awkward. In the few moments that Mrs. Who is able to speak for herself, one breathes a sigh of relief. More enjoyable is Reese Witherspoon as the most junior and impulsive of the three, Mrs. Whatsit; Witherspoon manages to feel simultaneously childlike and wise without being annoying, which is an impressive feat.
But the most impressive of all is the young star cast as heroine Meg Murry. Storm Reid perfectly captures all of the awkwardness and anger inherent in being a teenage girl who just doesn't fit in. The scenes of her being bullied in high school – though unfortunately subject to some pretty ham-handed dialogue and acting from the bullies themselves – truly sting, and that's all because of Reid.
And one cannot talk about Reid's casting without noting how remarkable it is for a big-budget film to not only have a young girl heroine, but a mixed-race young girl heroine who wears glasses and is complimented on her hair not once, but twice by the boy who has a crush on her. My heart feels full to think of the young girls who will go see A Wrinkle in Time and see themselves represented on the big screen as capable of saving the entire world. One just wishes that the film relied more on Reid and less on directorial flourishes.
Conclusion: A Wrinkle in Time
A Wrinkle in Time has many touching and beautiful moments, in large part due to the incredible and relatable performance of its young star. Children, especially young girls, will find much to inspire them and their imaginations here. However, the heavy-handed direction and sugary-sweet story may wear on adults used to more nuanced fare.
What do you think? Does A Wrinkle in Time seem appealing to adults, or do you think it's strictly for kids? Share your thoughts in the comments below.
A Wrinkle in Time is released in the U.S. on March 9, 2018 and in the UK on March 23, 2018. You can find more international release dates here.
---
Opinions expressed in our articles are those of the authors and not of the Film Inquiry magazine.