When Film Gets Personal: An Interview With Victoria Negri, Director Of GOLD STAR
We were able to talk with Victoria Negri, director of the drama Gold Star starring Robert Vaughn and Catherine Curtin.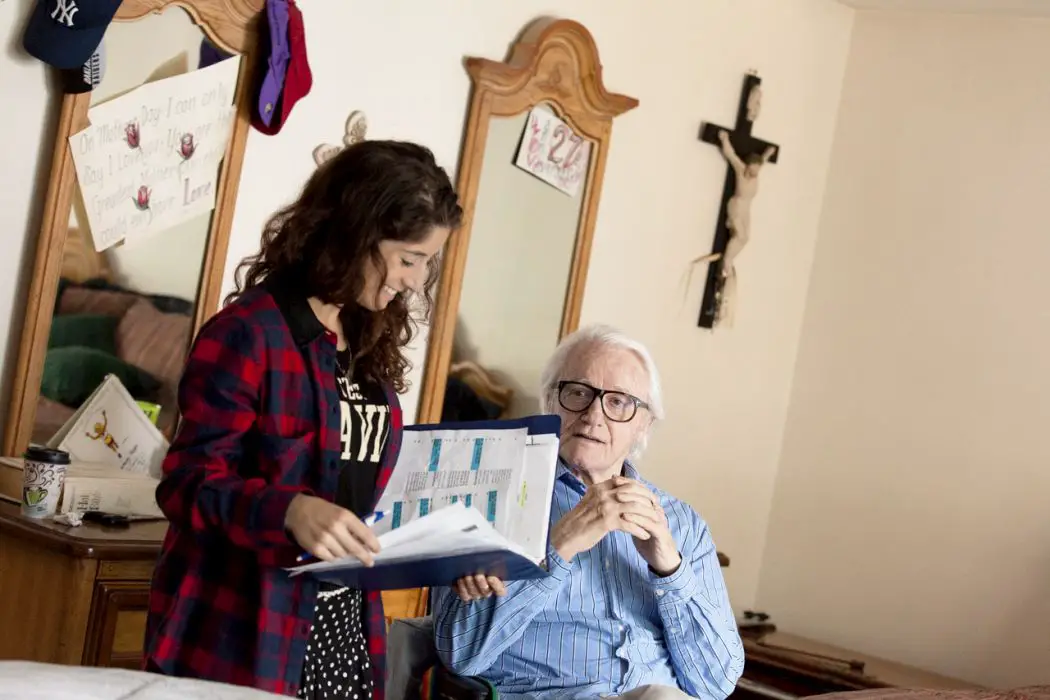 Victoria Negri is a woman dedicated to her craft. Like many multi-hyphenate artists of our generation, the 31-year-old filmmaker began her career in front of the camera, before finding her place behind the scenes. I enjoy watching a new director step onto the scene, as it is often with delicate footing. But Victoria seems to have jumped in feet first.
As her first ever film, Gold Star sets the standard for masterful acting (the film is worth watching for Catherine Curtin and Robert Vaughn alone) within a subdued, small-screen context.
I had the pleasure of speaking with Victoria about her film, her family, and the bittersweet taste of nostalgia.
Sophia Cowley for Film Inquiry: I really enjoyed your film, and I got to talk to Cathy Curtin about it, which was great. She had a lot of good things to say about you.
Victoria Negri: She is the best. She is one of the best human beings. You know, because you hire people and you have a good feeling about them but you never know until you actually work with them [how it's going to be] and she's just been a total rockstar.
So Gold Star is your first feature, and has been quite well received. Congratulations, this must feel like a huge accomplishment – or at the very least, I'm sure a huge weight lifted.
Victoria Negri: Yeah, it's been, it's been really crazy. It's crazy because there's always work to do, too, so it's trying to enjoy the experience and celebrate and take it all in, but also promote the film and make sure the theatrical screenings go really well and trying to think creatively on how to do that.
A lot to balance.
Victoria Negri: Yeah, it's a lot, a lot to balance, both emotionally and you know, work-wise. It's all been worth it; I'm really proud of the film. It's been a whirlwind for sure.
I heard that your family helped out on set.
Victoria Negri: (Laughs) I don't know what Cathy told you… my sister PA'ed a few times; we shot in the house that I grew up in. A lot of the crew members slept on couches—the set became like this family feel. Everyone was so close.
I know that Gold Star is deeply personal and autobiographical – would you feel comfortable giving us a brief backstory behind the film?
Victoria Negri: Yeah, of course. So, my dad was 63 years old when I was born, so it's been a really strange upbringing for me, knowing that by the time I turned 30, if my dad was still around, he would be in his 90s. I spent a lot of time just grieving him before he even passed away, and these alternating feelings of trying to enjoy every moment with him, but also getting angry and resentful and feeling like I wish I didn't have an older father, I wish my dad wasn't sick, I wish these things weren't happening.
In 2011, when I was 24, my father had a stroke. My dad was much worse off than Robert is in the film; I wanted Robert to be able to express even more with his face.
I spent a year as a young person helping take care of my dad with my mom and my two siblings who aren't portrayed in the film, and that's when I started writing the screenplay and really channeling a lot of these feelings into what I was going through.
The whole film has a rather nostalgic feel to it; your characters often talk about childhood memories and your character is living in her old room at home. I can think of one scene in particular where you are in the car with Eric, talking about old movies and music you used to watch and listen to. Was there a method to writing these scenes, and did you pull from your own memories to write them?
Victoria Negri: I love that you say there's this nostalgic quality to the film; no one's actually brought that up, and I think that's been a huge piece of it for me. Thinking back to better times, you always think, "oh, things were so much better," but were they actually? We always look at history through rose-colored glasses. But yeah, I definitely pulled some stuff from my own life. A lot of the production design was stuff in my house that we would rearrange.
The conversation with Chris in the car—my boyfriend in real life, actually, made his grandfather see Spice World when he was a kid; I did want to learn a lot of pop songs on piano when I was a kid.
Speaking of memories and movies, what are some of your go-to favorite films?
Victoria Negri: Oh god, this question is so hard. I love Badlands by Malick, I love Five Easy Pieces; it's one of my favorite films. I love The Shining; anything by Kubrick I can watch on repeat. I've really been into Kelly Reichart films lately, which are much different than the ones I was just mentioning. Certain Women last year; I watched it alone in my apartment and was just sobbing uncontrollably.
Thinking back to better times, you always think, "oh, things were so much better," but were they actually? We always look at history through rose-colored glasses.
I love when directors act in their own movies—it reminds me of people like Miranda July and Sophia Takal. What made you decide to step into this role in your film?
Victoria Negri: Yeah, it actually was like a reverse situation; I went to NYU for acting and I wrote the role knowing that I wanted to play the lead. So I wrote it for myself, knowing exactly how I wanted the acting to come across.
The directing came later, actually. I think I knew I wanted to do it the whole time, but I was so afraid to wear multiple hats and take on so many responsibilities. I started to interview a lot of directors and I realized, I should also be the one to direct this because I see it in my head and I can do this.
It's actually my first film; I never directed a short. I had hopped behind the camera about a year or two after I graduated from school; I started producing and assistant directing. So I knew what a director did, I just had never done it.
I'm sure you get asked this all the time, but how did you manage to cast Robert Vaughn?
Victoria Negri: Yeah, a lot of luck, but we hired a casting director, Judy Bowman, who knew a filmmaker that had worked with him and heard that he might be willing to work on low-budget independent films, and within a week, he was on board, right after we reached out. I was blown away.
I never thought that somebody of that caliber would say yes to the film and take such a big chance on me. I actually asked him right after I met him like, "why, Robert?" and he said he really wanted the challenge of acting with no dialogue.
I started to interview a lot of directors and I realized, I should also be the one to direct this because I see it in my head and I can do this.
You are a member of New York Women In Film & Television, Film Fatales and The FilmShop, right? Did these organizations help you get your film funded or did you do that largely on your own?
Victoria Negri: I did the funding largely on my own with the help of my producers. I joined the groups right after I wrapped the film. What they were really helpful with was resources, seeing what other filmmakers were doing, film festivals, how to release a film, how to get it out there. And just realizing that I'm not as alone in this process as I think I am.
I'm sure you are still busy promoting your film now that it's out, but I heard that you are already planning your next project. Can you tell us a bit about it?
Victoria Negri: Yeah, Cathy's telling you everything! I have another script I'm really excited about, it's called Ultra and it's about a woman who runs 100 miles across Death Valley. She has a psychotic break with reality as she's running. It's going to be like a psychological thriller. Very different from Gold Star…hopefully that one won't take six years!
Film Inquiry thanks Victoria Negri for taking the time to speak with us!
Find Gold Star release information here, or watch it on Amazon.
This interview was transcribed from a phone conversation and was edited for brevity.
---
Opinions expressed in our articles are those of the authors and not of the Film Inquiry magazine.